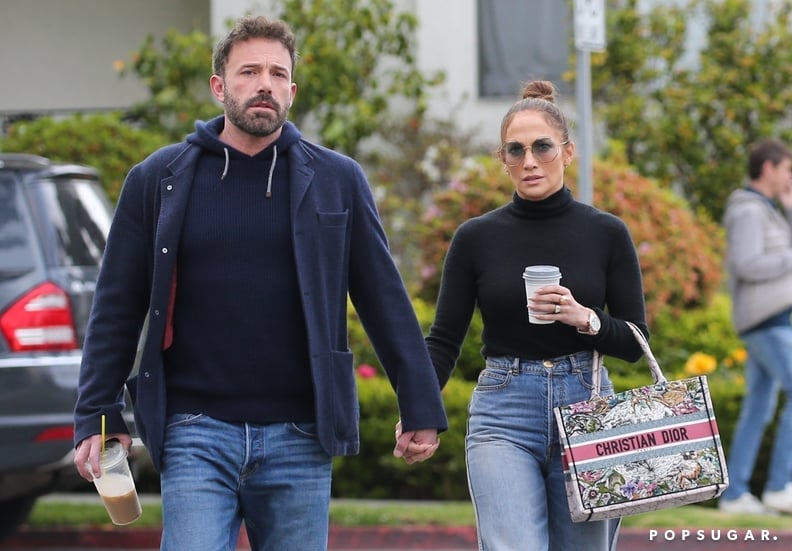 Jennifer Lopez and Ben Affleck were recently spotted taking a stroll in Santa Monica, CA, showcasing their coordinated fashion sense. The couple matched by wearing dark sweaters and denim, but added their own personal touches to the outfit. Lopez tucked her black cashmere turtleneck into high-waist wide-leg jeans, giving it a 70s-inspired look, and completed the outfit with tall espadrille wedges, oversize octagon frames with translucent lenses, and her Christian Dior book tote featuring an ethereal constellation embroidery. Adding some chunky jewelry such as mixed metal rings, a chainlink watch, and stud earrings, she tied her hair into a top knot and opted for light makeup with a nude manicure.
Affleck, who is 50 years old, perfectly matched Lopez's navy tones by wearing a ribbed hoodie layered under a cardigan-style jacket and completed his look with a pair of Nike sneakers. This nods to his popular film "Air," which focuses on Michael Jordan's impact on fashion after signing with the athletic brand. Interestingly, this outfit combination is quite typical for the couple when they're not working, although they did dress up for the "Air" world premiere in LA on April 27. On that occasion, Lopez wore a neon green Antonio Grimaldi Couture gown with a sheer beaded bodice, while Affleck opted for a midnight navy Thom Sweeney corduroy suit.
During her appearance on "Live With Kelly and Mark" on May 5, Lopez shared how Affleck would offer style tips for big events, saying that he doesn't attend fittings but is always ready to give his opinion on outfits. Lopez would ask him questions like, "Do you like this one or this one?" and he would provide his honest thoughts. Lopez also mentioned that sometimes his opinion differs from hers, which she finds funny. Check out their latest outing to see if their matching outfits were intentional or not.