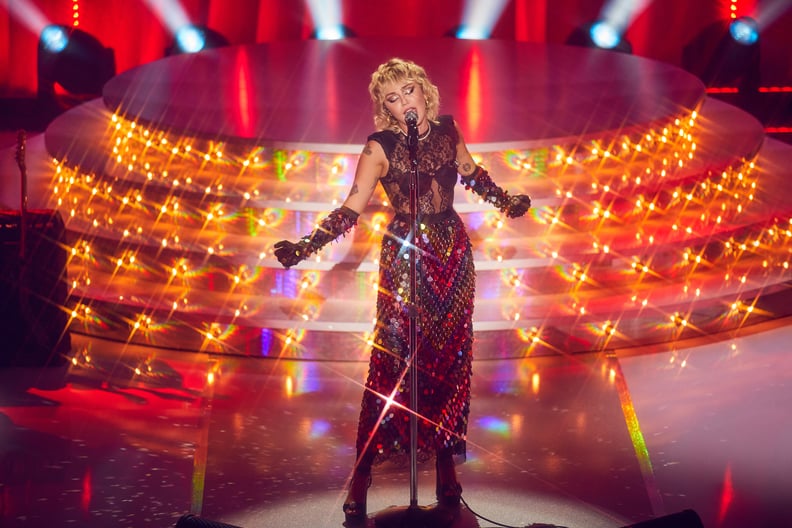 Miley Cyrus has blessed us with a Pride concert, now streaming for free at PeacockTV.com, and frankly, there's nobody better to dress the part of host. While you can catch snippets of the event, called Stand by You, on Miley's Instagram and YouTube, there's nothing as magical as seeing these clothes in action as Miley performs from start to finish.
"I'm gonna keep fighting for us — for our community that we treasure and hold so dear — and while I do it, Imma be in Gucci," Miley says at one point over the microphone. Since the star was recently announced as the new face of a Gucci perfume, we're assuming this is the start of a longstanding partnership with the Milan fashion house (not that she hasn't worn Alessandro Michele's designs before).
But the colorful outfits don't end with that paillette sequin Gucci skirt you see her in above. She also sports Giambattista Valli Haute Couture feathers; a hot-pink, gemstone-clad Bob Mackie minidress that hails from the '80s; one dazzling sequined Christopher John Rogers skirt set to sing Cher's "Believe"; and a vintage Jean Paul Gaultier rhinestone bodysuit. Even with all the other guests in attendance — Brothers Osborne, Mickey Guyton, Little Big Town, Maren Morris, and Orville Peck make appearances — it's safe to say Miley's costumes do the best job reflecting the magic that is the LGBTQ+ community and all the representation we can bring to our world.
While the show was filmed at the historic Ryman Auditorium in Nashville, you can still watch it from anywhere as you enjoy Pride through music. With Miley covering artists such as Madonna, ABBA, Cyndi Lauper, and Pat Benatar, there are definitely iconic moments being made, similar to her memorable rendition of "Heart of Glass." Keep reading for stills of Miley's wardrobe during the empowering, all-inclusive special.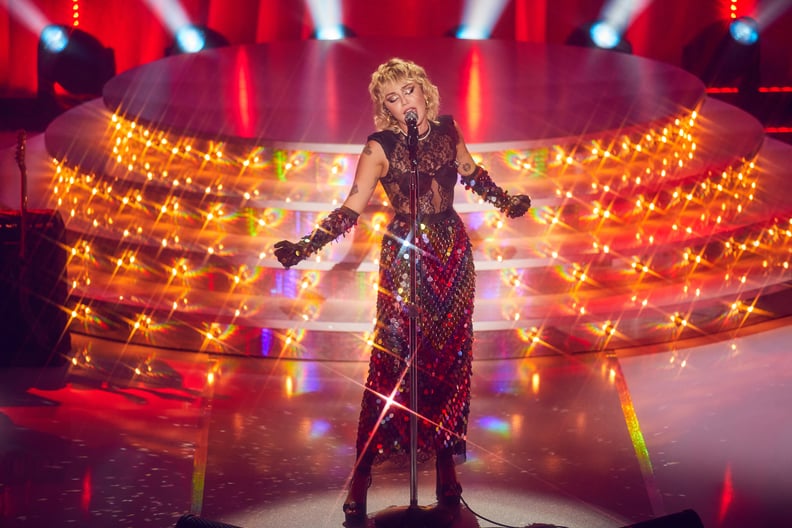 Miley Wearing Gucci For Stand by You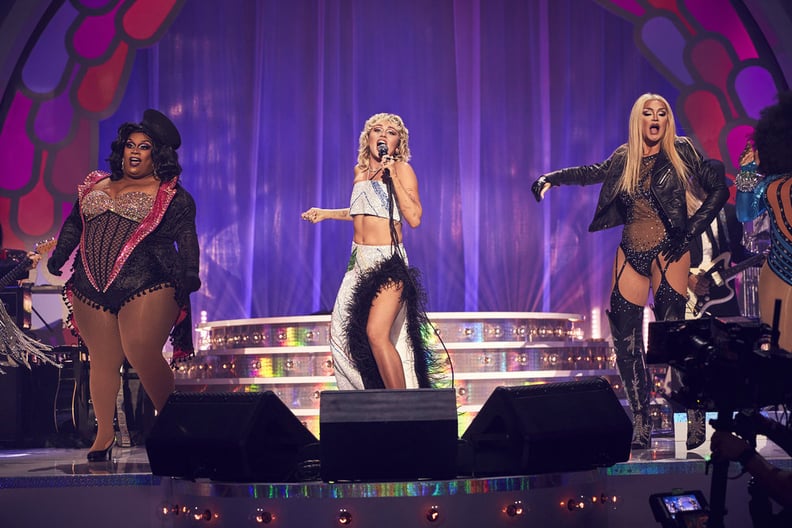 Miley Wearing Christopher John Rogers For Stand by You
Miley belted out Cher's "Believe" in this look!
Watch Miley's Performance of Cher's "Believe"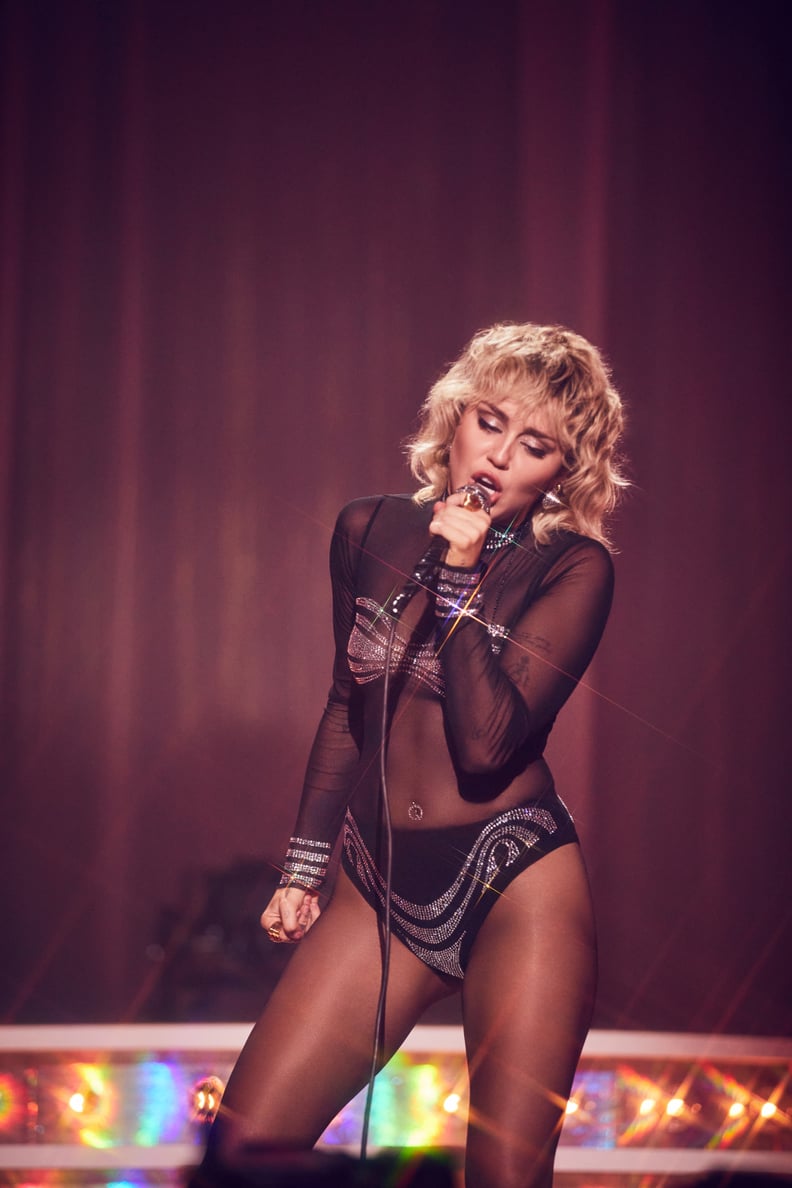 Miley Wearing Jean Paul Gaultier x Le Court Mansion For Stand by You
The bodysuit, which comes from JPG's Les Marins collection, was complete with Alan Crocetti earrings.
Miley Wearing Giambattista Valli Haute Couture For Stand by You
The look comes from Giambattista Valli's spring/summer 2021 Haute Couture collection.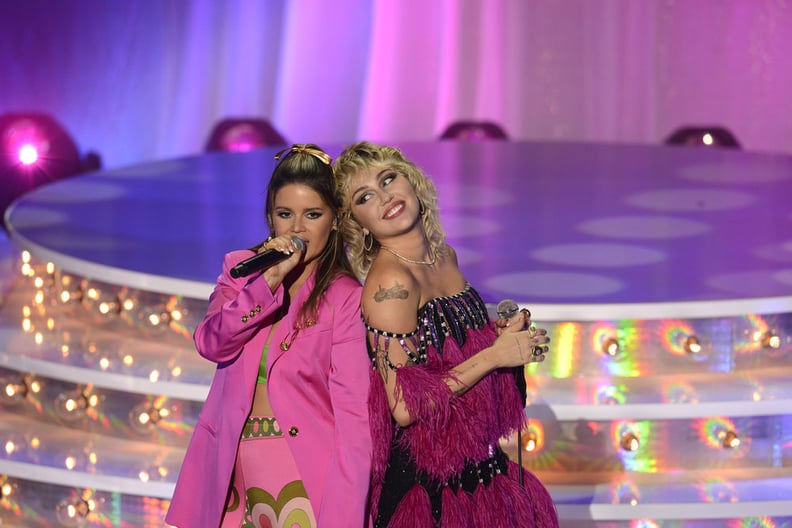 Miley Wearing Bob Mackie For Stand by You
This magenta feathered frock was pulled from the '80s archives!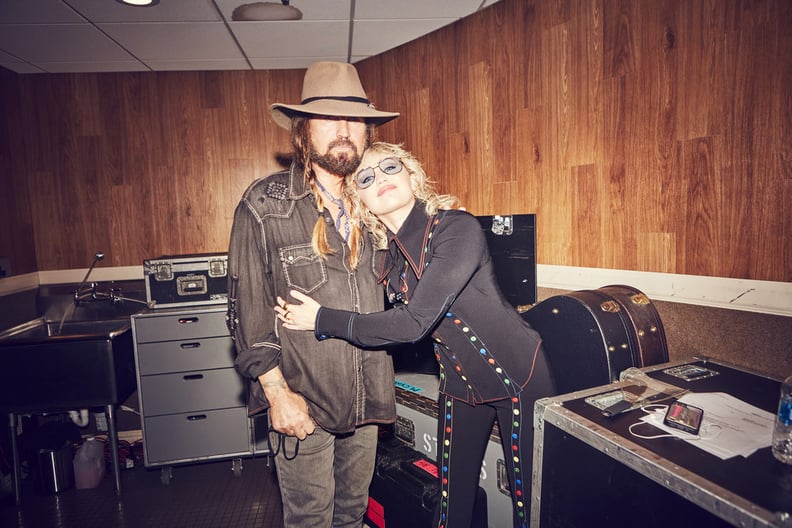 Miley Wearing a Rainbow Studded Pants Set Behind the Scenes of Stand by You